Be notified
The Weekly Test App notifies responsible persons of pending fire alarm weekly tests with specific instructions on which Manual Call Point should be tested and any additional tasks as defined by you.
Be informed
Users have the option of adding additional data, such as photos, barcodes and comments to their testing records. All data is securely logged in real-time to the Nimbus database and accessible from any web-enabled device.
Be compliant
The Weekly Test App ensures consistent, duplicate-free testing to meet compliance requirements. It provides indisputable proof of weekly testing to BS5839 standards through automated, non-editable digital data collection for audits and management reports.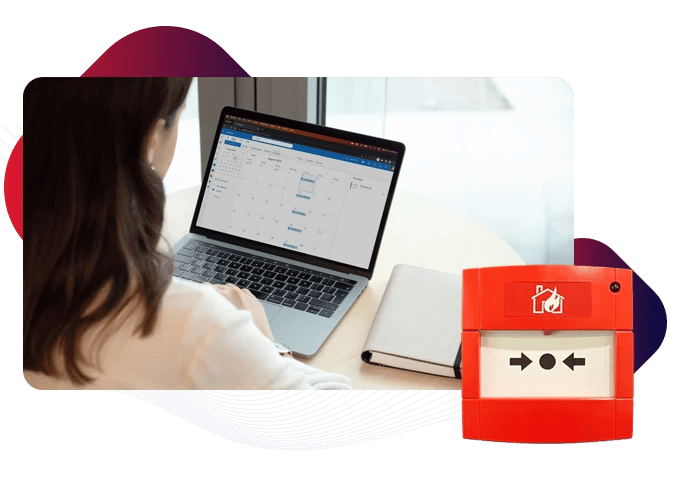 Weekly testing
The challenges
Weekly testing of manual call points (MCP) is a legal requirement that can easily slip our minds amidst our busy schedules. Keeping track of which MCPs need testing is difficult, especially if you are the responsible person for multiple buildings or share this task with several colleagues.
Failing to test a different MCP each time or neglecting to record your weekly testing can result in a violation of legal compliance – and put the safety of people in your building at risk. Thankfully, Nimbus offers a solution.
The solution
Nimbus Weekly Test App
The Nimbus Weekly Test App is an Android application that notifies Facilities Managers of a pending 'fire alarm weekly test' with specific instructions on which Manual Call Points (MCPs) should be tested. The user receives confirmation as tests are performed, and the results are logged to the Nimbus Portal and the Weekly Test App log. The user can easily add photographs or comments to complement the testing data.
A Nimbus Administrator can configure when the weekly test is to be carried out and how many MCPs to test. User-defined pre and post-test tasks can also be configured and delivered to the user, such as 'contact the ARC to inform that a test is to be carried out' prior to testing and then 'contact the ARC to verify that a test was received' when tests are complete.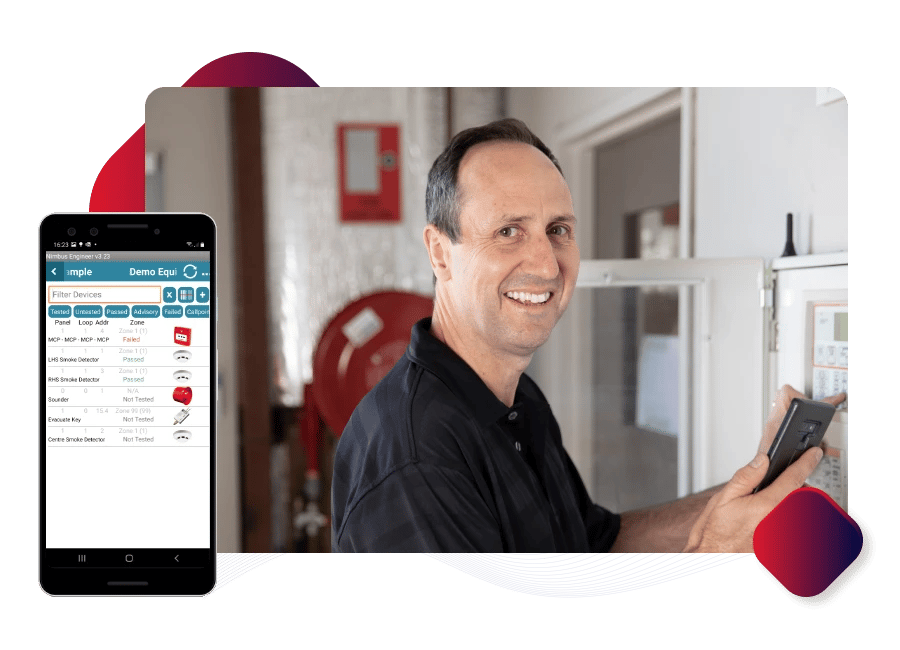 Unparalleled visibility
The Nimbus product family
Nimbus Notify App
Fire alarm event notifications delivered to your smartphone
Nimbus Control Room Monitor
Multi-panel and property remote alarm monitoring
Supported technology and panels
Nimbus is compatible with leading fire alarm systems
Don't take our word for it
Here's what some of our clients have to say about Nimbus!

Our investment in Nimbus is reaping significant benefits across our business. Nimbus has simplified operations, automated the interaction with our engineers, saved time and considerably improved the quality of information.
TriManagement
The Nimbus solution's real-time monitoring, data exchange capabilities, and seamless integration with our existing fire systems have greatly improved our ability to respond to potential fire hazards and faults.
We're a lot more informed now our sites use Nimbus. The additional information the system provides allows us to be much more efficient in the ARC and has saved us money on Engineer call-outs.
Places for People
FAQs
If you have questions,
we have answers